PAUL EARLY LIFE AND CONVERSION
Paul's nativity and education (Acts 22:1-5, 26-30)
Sometime after the birth of Jesus in Bethlehem, another boy was born to a Jewish family. This Jewish family was living abroad in the town of Tarsus in the city of Cilicia in Asia Minor, which is present day Turkey. And, the boy (Saul/Paul) who was born said, at a later part in his lifetime:
"I am a Jew, born at Tarsus in Cilicia" (Acts 22:3).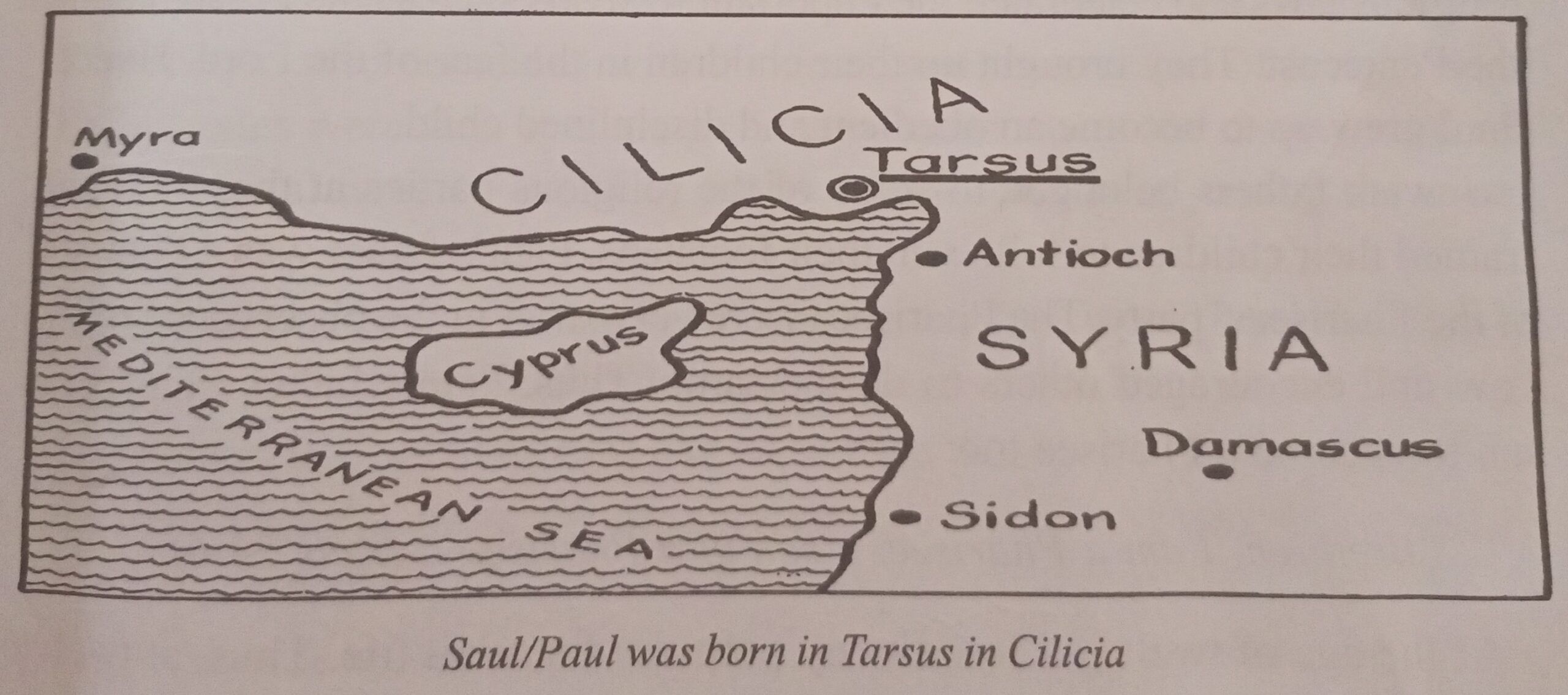 We have seen that Paul was a Jew and at the same time a Roman citizen. His father had bought Roman citizenship that was sold to foreigners in the Roman Empire. Roman citizenship enabled one to enjoy certain privileges. These included no molestation and flogging when arrested, fair trial and the opportunity to appeal to the Emperor if the trial was not fair. When Paul realized, on an occasion, that he was not getting a fair trial, he used his Roman citizenship to appeal to Caesar:
"But Paul said, 'I am standing before Caesar's tribunal, where I ought to be tried; to the Jews I have done no wrong, as you know very well. If then I am a wrongdoer, and have committed anything for which I deserve to die, I do not seek to escape death; but if there is nothing in their charges against me, no one can give me up to them. I appeal to Caesar."(Acts 25:10-11,)
Since Paul enjoyed dual citizenship, he had two names, a Jewish name: Saul, and the Roman name: Paul. He could speak Hebrew, the language of the Jews. He could also speak Greek, which was widely used by different people to communicate with one another in the same way as we use English or French, today. He could also speak Aramaic, the language that Jesus used.
Paul's family was a typical Jewish family. The parents obeyed the Jewish religious laws and celebrated the important festivals such as the Passover and the Pentecost. They brought up their children in the fear of the Lord. Hence, Paul grew up to become an obedient and disciplined child.
Jewish fathers belonged to some of the religious parties at that time and trained their children to follow in their footsteps. Paul's father was a Pharisee of the Pharisees' party. The Pharisees were very strict in the observance of the Law and encouraged others to do the same. Thus, Paul's father trained his son to become a Pharisee too:
"Brethren, I am a Pharisee, a son of a Pharisee" (Acts 23:6)
At the age of twelve, a Jewish boy prepares for adult life. Thus, at twelve years, Paul spent a year at the synagogue school, which was the place where his father attended worship on the Sabbath. Here, the rabbi or teacher gave him and other Jewish boys of his age, lessons in the history and religion of Israel; and they practiced reading in Hebrew. At the end of the twelfth year, he attended a special synagogue ceremony where he wore a cap and talith (prayer-shawl), and read the Scripture. He had graduated as the Son of the Law; and now as a full member of the synagogue he could take his place with the other men in the synagogue.
Paul was sent to Jerusalem to continue his studies. At the college, he studied the Jewish religion and law under the great Rabbi, Gamaliel. Paul was one of his best students:
"I was brought up in this city (Jerusalem) at the feet of Gamaliel, educated according to the strict manner of the law of our fathers, being zealous for God as you are all this day" (Acts 22:3).
Paul's persecution of the early Church (Acts 7:57-58; 8:1-3, 9:1-2)
Paul returned to Tarsus after his studies in Jerusalem. He worked in the family business of tent-making. After working for some time, Paul returned to Jerusalem. This second visit coincided with the death and resurrection of Jesus Christ.
The apostles were then spreading the good news about the resurrection and the wonderful work of the Holy Spirit. Many Jews were joining the young Church.
Some of the Jews, including Paul, believed that God would send His Messiah to save the Jewish people. But they did not believe that Jesus was the Messiah. They did not believe that Jesus had risen from the dead. They thought that the Christian teaching about the resurrection of Jesus Christ was dangerous and must be stopped.
This set of Jews, who opposed the Christians, thought it was God's will to punish the Christians. It was some of them who arrested Stephen for preaching about Jesus and later dragged him out of the trial place and stoned him to death.
Paul was present as Stephen was stoned to death. He was the young man at whose feet the dress of Stephen was laid. This probably meant that Paul was the ringleader of the mob. He consented to Stephen's death because he was bent on stamping out Christianity:
"I persecuted this Way (Christians) to the death, binding and delivering to prison both men and women, as the high priest and the whole council of elders bear me witness." (Acts 22:4)
We have noticed that with the death of Stephen there was mass persecution against the Christians in Jerusalem. Paul was one of the great persecutors of the Christians. He dragged many of them to be imprisoned. When he heard that some of the Christians had fled from Jerusalem to Damascus, he obtained letters from the high priest to arrest the Christians there and bring them to Jerusalem for prosecution.
The significance of Paul's early life: Paul was a very successful young man. This was because he was an obedient, respectful and hardworking student. He took his lessons seriously and graduated with distinction.
Paul was also a devout Jew who took his religion seriously. He faithfully defended his religion when he wrongly believed that Christianity threatened it.
The conversion of Paul (Acts 9:1-19)
Conversion is the process by which we change from one religion to another.
This change usually results from some experiences in our lives. Paul was converted from Judaism (the religion of the Jews) to Christianity as a result of his encounter with Jesus Christ on the road to Damascus.
After Paul had persecuted the Christians in Jerusalem, he heard that many of them had fled Jerusalem to places like Damascus, in far away Syria. He also heard that the Christians had settled down in Damascus and made many converts and built their own Churches. Paul who wanted to stamp out Christianity was not happy with the success of Christianity in Damascus.
Therefore, he went to the high priest and obtained permission to go to Damascus so that he could arrest the Christians there and bring them to Jerusalem for punishment. The high priest was very happy and gave Paul a letter of introduction to the synagogues in Damascus.
Paul left for Damascus the following day in the company of some of his colleagues to carry out his plan against the Christians. As he got near to the city of Damascus in the afternoon, something wonderful happened to him that was to change his entire life for the better.
As Paul rode on his horse, a bright light from heaven flashed down on him. This strong light blinded him and he fell on the ground. He then heard the voice of the risen Christ speaking to him: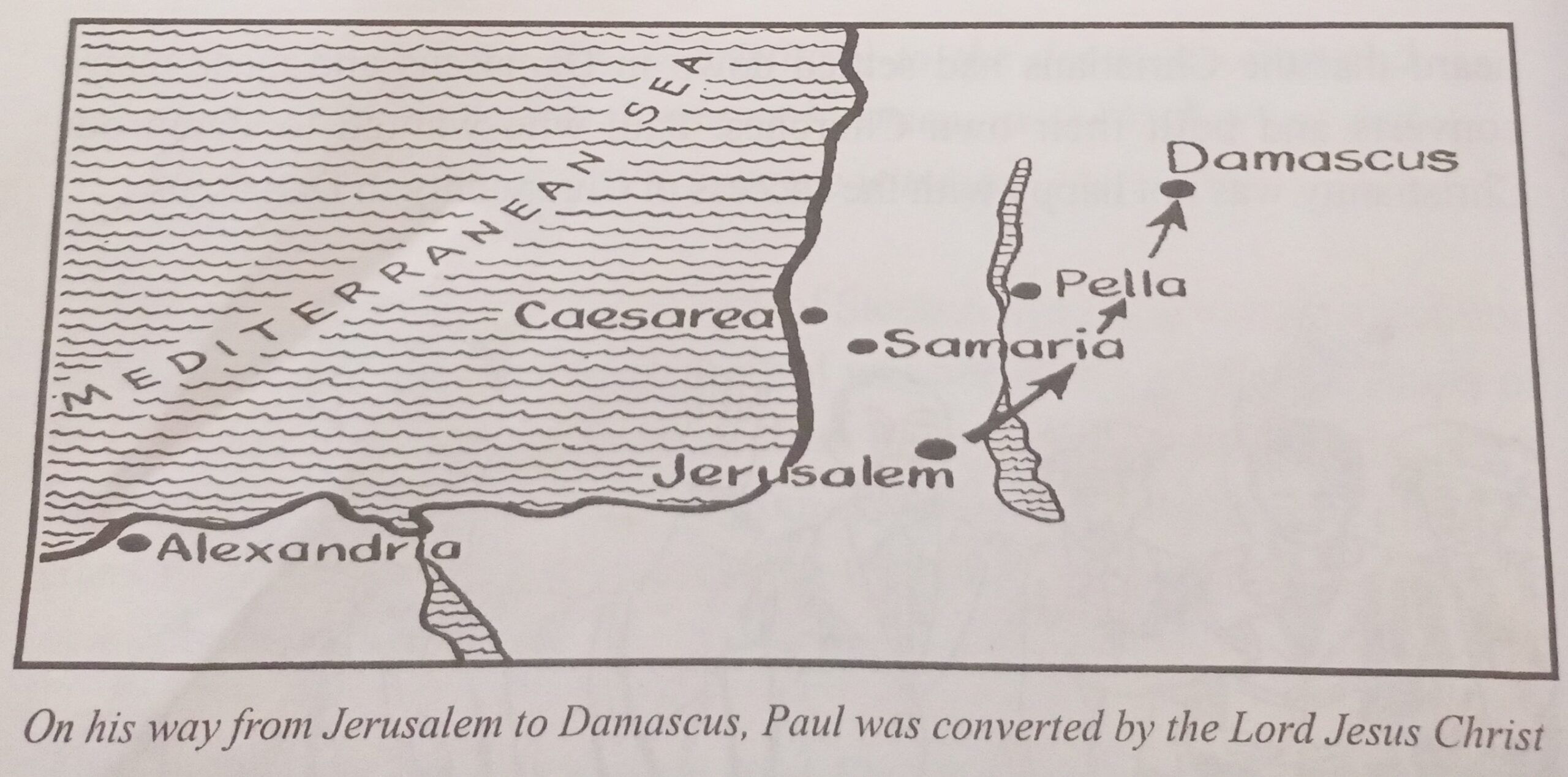 On his way from Jerusalem to Damascus, Paul was converted by the Lord Jesus Christ
"Saul, Saul, why do you persecute me?"
Looking up, Paul asked:
"Who are you, Lord?"
And, the voice replied:
"I am Jesus, whom you are persecuting.
Jesus asked Paul to go to Damascus where he would be told what to do.
The companions of Paul were silent and afraid because they heard the voice speaking, but didn't see any one. When Saul got up from the ground he could not see, for the light from heaven had blinded him. His companions led him into the city of Damascus. He remained in the city for three days without food and water.
The Lord appeared to one of the Christians in Damascus called Ananias. He said to him:
"Rise and go to the street called Straight, and inquire in the house of Judas for a man of Tarsus named Saul; for behold, he is praying, and he has seen a man named Ananias come in and lay his hands on him so that he might regain his sight."
But Ananias said:
"Lord, I have heard from many about this man, how much evil he has done to thy saints in Jerusalem, and here he has authority from the chief priests to bind all those who call upon thy name."
But the Lord said to him:
"Go, for he is a chosen instrument of mine to carry my name before the Gentiles and kings and the sons of Israel; for I will show him how much he must suffer for the sake of my name."
So, Ananias went to the house of Judas and found Saul. He laid his hands upon him and said:
"Brother Saul, the Lord Jesus who appeared to you on the road by which you came, has sent me that you may regain your sight and be filled with the Holy Spirit.'
And immediately, something like scales fell from his eyes and Saul regained his sight. Then he rose and was baptized, and he took food and he was strengthened. Saul was now a Christian.
The significance of Paul's conversion: Immediately Paul encountered Jesus and was filled with the Holy Spirit, he became a completely changed person. He no longer persecuted the Christians. Rather, he devoted the rest of his life to Christianity by bringing more people to the Christian faith. Therefore, the greatest persecutor of the Church became the greatest defender of the Christian faith.
The call of Paul (Saul) and his faithful response to God's work reminds us of the call and response of people such as Abraham, Moses, the disciples and even some Christians today. Such faithful response shows complete faith and trust in God and Jesus Christ.
Religious Guidance and Counselling
God wants you to be serious in your early life, like Paul was
Some of you are still disobedient and not disciplined, and therefore not serious with your studies. You need Jesus to help you overcome this problem to be a serious person in your early life like Paul was.
God wants all of you to pray to Him through Jesus to help you become serious in your early life by being obedient, disciplined and diligent students.
When you are serious, like Paul was, you will succeed like him not only in your studies but also in later life.
God wants you to lead a changed life, like Paul did
It is not an easy thing for us to show by our words and actions that we are true Christians by leading a changed life, like Paul. This is because of the many temptations that we face everyday and the dependence upon our own effort to overcome them. Jesus was the only one who overcame the temptation to sin.
Therefore, God wants all of you to ask Jesus to help you overcome each and every temptation so that you can lead a changed life, like Paul.
Religious and Moral Lessons
The qualities of obedience, respect and hard work enabled Paul to succeed as a student. As students you must learn to pray to God through Jesus to help you follow the good example of Paul so that you might succeed in life.
Though a graduate, Paul worked as a tent-maker because no work was too mean for him. When you grow up, you must learn to respect all types of jobs in your effort to earn an honest living, like Paul did.
Paul was wrong in not believing the good news which the Christians were telling him. He condemned Christianity because he did not understand it. You must learn not to condemn what you do not understand, like Paul did, but rather seek to understand it.
Jesus confronted Paul over his persecution of the Church, and he changed and became a new person. You must learn to listen to the voice of the Lord when he calls you from your sinful ways to change for the better.
God later used Paul to spread the Gospel to many people in order to bring salvation to mankind. You must learn that God can use you, at any time, to bring about improvement in the spiritual, moral and material lives of the citizens of our country, as well as the rest of the world.