PATTERN OF WORLD POPULATION DISTRIBUTION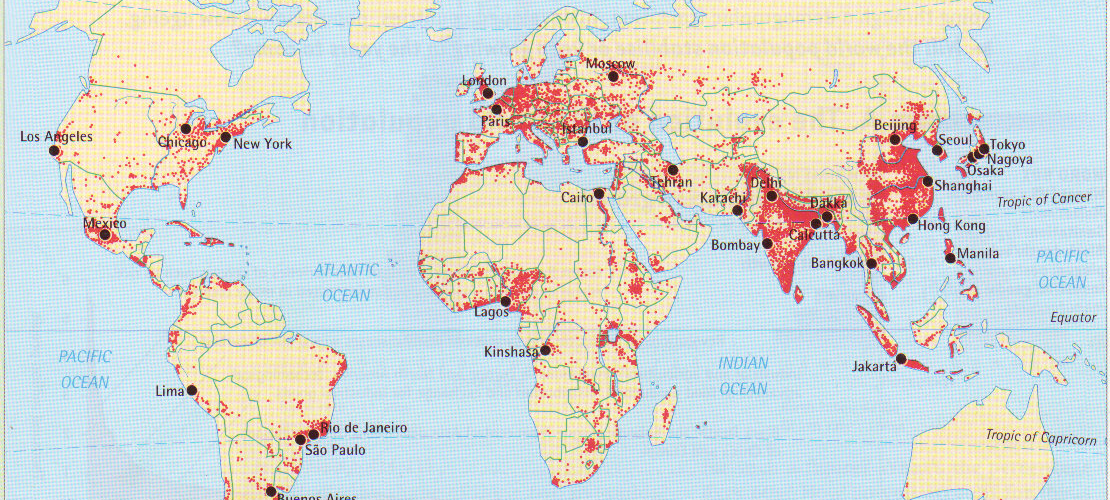 Pattern of world population distribution is grouped into three. These are:
The very densely populated parts of the world.
The moderately populated parts of the world.
The very sparsely populated parts of the world.
THE VERY DENSELY POPULATED PARTS OF THE WORLD
Industrial North-West Europe: This includes countries like Great Britain, France, Germany, Denmark, Belgium, etc. These areas are highly industrialized due to the presence of coal and iron.
Industrial North-Eastern U.S.A: This is the great industrial belt of the United States and Canada stretching from the shore of the Great Lakes of Pittsburgh to New York which is very rich in coal and iron.
Agricultural Monsoon Asia: This includes populous countries like China, Indian, Japan, Pakistan, Indonesia (particularly Java), etc. This is the area of the largest population concentration of the world, known for its fertile soils, warm climate and abundant rainfall which promote agriculture.
The Nile Valley and Delta: This is essentially in Egypt. It is an area within the Sahara desert which through irrigation has converted a desert into an area of high agricultural activities and consequently high population.
THE MODERATELY POPULATED PARTS OF THE WORLD
These include areas of cool temperate forest of Europe, Canada and Asia.
The temperate and tropical grassland of southern continents.
Agricultural U.S.A.
Mediterranean Europe.
Africa
Most parts of South-East Asia.
THE VERY SPARSELY POPULATED PARTS OF THE WORLD
The cold polar lands of Arctic and Antarctica which are not inhabited due to cold weather.
The Canadian and Eurasian tundra and Greenland also due to cold weather.
The high mountains of Himalayas, Rockies and parts of Andes due to rugged relief and cold weather.
The hot deserts of the world like Kalahari, Atacama, the Sahara, etc. due to hot weather and dryness with no rain.
The dense tropical rain forest like the Amazon basin (South America), Congo (Zaire) basin (Central Africa). Both are uninhabited jungles.